Kingston's agencies hope to build community understanding for substance abusers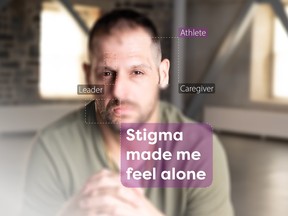 Article content
A new campaign led by local community health organizations is asking local residents to see the individual's substance abuser's past use and to help make Kingston a kinder place for people who are affected by the use of substances.
Article content
The Kingston, Frontenac, Lennox and Addington Community Drug Strategy Advisory Board joined with Trellis HIV & Community Care in Kingston to launch an Anti-Stigma Campaign to help educate community members about the effects that drug-related stigma substance use has on the lives of consumers and to humanize individuals who use substances.
Article content
The What You Don't See Person campaign is officially launched Thursday at an event at the Royal Canadian Legion Branch 560 at 734 Montreal St., which takes place on International Overdose Awareness Day. The campaign will feature online resources, print and radio advertising, and personal stories from substance users who have experienced stigma in their lives.
Those personal stories express feelings of helplessness, judgment, isolation, and a lack of being seen.
Article content
People feel judged and discriminated against, Anoushka Moucessian, public health advocate at KFL&A Public Health and coordinator of the KFL&A Community Drug Strategy, told the Whig-Standard Wednesday. She may create things like isolation, shame, believing she is unable to get help when you ask for it. People may feel like they are not being seen, heard or cared about.
The stigma against people who use substances extends not only to their personal lives but also to their access to health care and supports. According to the Public Health Agency of Canada, in its Primer to Reduce Substance Use Stigma in the Canadian Health System, substance use stigma is prevalent throughout the health care system and contributes to poor quality of care and negative health outcomes.
Article content
This discrimination can lead to disadvantages and unfair social and health outcomes, the agency said.
People talked about that judgment from family members and the support they turned to when they needed it, such as social services or health workers, Moucessian said. It usually manifests itself as a broader perception of stigma as a moral issue, with people thinking you can stop if you want. The focus is on substance use rather than understanding the deeper cause.
The campaign features seven personal stories from people with lived experiences, including mothers, frontline workers, homeless people and other community members. Moucessian hopes the community will begin to understand not only the complexity of the personal stories behind the path to substance use, but also how trauma informs that trajectory.
Article content
People often talk about traumas that have happened in their lives, and substance use can be one way to deal with that trauma, she said. This is something we really try to highlight as part of a larger story for people involved in the campaign.
The anti-stigma campaign arose in part from discussions by the approximately 40-member KFL&A Community Drug Strategy Advisory Board, which is composed of representatives from multiple sectors, including social service agencies, law enforcement health workers, psychiatric. health and addiction agencies and people with lived experiences.
As the conversation evolved, the group consensus was that it was not a particular substance that was causing a problem, it was actually the stigma around substance use that created a major barrier for people who are affected by substance use Moucessian said. When we talk about stigma in the community, we often have a negative impact on people's well-being.
Article content
All these conversations happened and it was understood that stigma gives the impression that substance use is the result of an individual choice, that there is something wrong with a person when they choose to use it, that there is a weakness, a moral issue or a lack of willpower. .
The anti-stigma campaign is part of a larger project called Support Not Stigma, an initiative led by Trellis HIV and Community Care and Integrated Care Hub in Kingston. This initiative was launched after the two organizations received a $1.5 million grant from Health Canada's Substance Use and Addiction Program and is committed to providing people in our community who use substances with a hand, not a subsidy.
A regional anti-stigma and education strategy is included in initiatives in six key areas of work.
Article content
The stigma against people who use substances only makes the scary situation worse, Candice Christmas, project engagement manager of the Support Not Stigma initiative, said in a written statement. It is so pervasive in our community and systems and needs to be addressed because people are afraid to get the help they need.
Moucessian hopes the community will come away from the campaign with greater compassion and empathy and with an understanding of how stigma around substance use affects every person and how it manifests in their lives.
Each person has their own story, he said. There are certainly some common themes, but this is a very diverse group of people. Often people have an image in mind of who they think a person affected by substance use is, but in reality, some narrators are not the people you expect. Those affected are not always visible.
She also hopes that anyone on the substance use spectrum, whether in recovery, still in recovery, or somewhere in between, understands that they can access support no matter what, and that those who provide support need to rise to the occasion with compassion.
The real need is to see people as human beings, and that's something that will emerge in the stories, she said.
For more information, visit www.SupportNotStigma.ca.
mbalogh@postmedia.com
#Launch #antistigma #campaign #substance
Image Source : thewhig.com